Joined

Apr 23, 2002
Professional Status

Certified General Appraiser
State

Oregon
WSJ...and the unemployment rate jumped from 5 to 5.5%....
a 22 year record jump.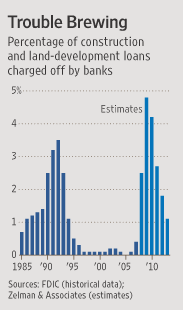 Banks with swelling portfolios of troubled loans tied to land and housing are struggling to unload some of their real-estate debt. IndyMac Bancorp Inc., a Pasadena, Calif., lender, is trying to sell $540 million in loans made to finance land purchases and housing construction projects. Winning bids on many of the loans were, on average, about 60 cents on the dollar, according to people familiar with the matter. But some winning bids were only about 20 cents on the dollar.